THE PRAYER QUILT MINISTRY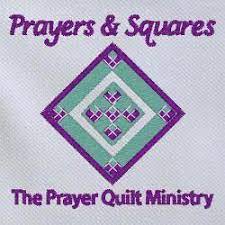 Prayer is the focus of this ministry. It is our expression of love for all who are sick, suffering, or in despair. Quilts are given to both members and non members who are experiencing challenges.
Those that work on the quilts are brought into prayer and communion with all who are experiencing fear, suffering, and despair. The congregation finishes each quilt by saying prayers as they knot the yarn ties that secure the quilt layers. Those who receive the quilts are reassured that they are not alone. That God is with them and so are we. These quilts are a tangible representation of a prayer effort by the members of our Church and the recipient, they are patchwork evangelists.
A quilt is requested by someone other than the recipient. There is no charge for the quilt. This person is then considered the sponsor. The sponsor must ascertain that the recipient agrees to accept this gift of prayer in the form of a quilt and what information they are comfortable sharing with the congregation. When the quilt is finished, the sponsor then delivers it to the recipient.
Volunteers join with each other in Fellowship Hall every third Monday of the month or they work from home. You need no previous quilting experience. There are many steps in the process that don't require sewing. Such as: cutting squares, laying out the design, assembling the layers, or threading the yarn ties through the quilt layers.
The most important way in which you can help in this ministry is to lift each recipient in prayer as you tie a knot each time a quilt is presented. Those who tie a knot in prayer affirm their faith in God's loving, comforting, and healing presence. Everyone who sees the quilts is reminded of God' love for us and our love for each other.
Donations are always welcome.
To request a quilt or to volunteer, please contact:
MaryJane Austin, Janell Sullivan, Pastor Jeff McDowell, or Sandy Crane at the Church Office.
Blessed be the God and Father of our Lord Jesus Christ, the Father of mercies and the God of all consolation, who consoles us in all our affliction, so that we may be able to console those who are in any affliction with the consolation with which we ourselves are consoled by God
2 Corinthians 1: 3-4