Karren's Clothing Cupboard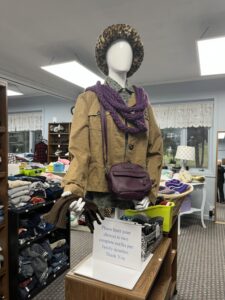 Latest Update: Things are moving along in the cupboard; we have started changing out clothing for Spring and getting some things around for the spring rummage sale. Many of the things we are taking down will be packed away for next winter but will be tagged so we are sure what is moving and what isn't. There are some adorable outfits for little guys and very cute dresses for Easter for girls up to size 12 girls. We have some dresses for women, dress shirts and pants for guys. One day in March we had 5 customers looking for items for at least 10 or more people in their families. That was a busy day and thankfully we had 4 of us working. Because of that day we have decided realistically we need to have at least 3 people most days. To date we have served 32 people coming from Candor, Millport, Elmira Heights, Elmira and Horseheads. It doesn't sound like a lot but as we opened the last week in November as an unknown, we feel like it is doing well. We have only had to purchase a few items and that money has come from free will donation money. Thank you all for your generosity.
A little history of Karren's Clothing Cupboard to help understand where it came from and where we hope it goes. Years ago Hope Mayhew had a desire to build a clothing thrift store that would be run by the church. The rummage sale always has a large amount of clothing and articles left at the end of the sale and we had been sending what was left to Northern Tier Children's Home thrift store. Over the last year they have stopped taking more items because they are so full. Last winter, while discussing the Spring rummage sale, we didn't know what to do with the leftover items. During devotions, a thought came to mind, which was presented to Cindy Ellis and then to the United Women of Faith. With their support, we presented to Outreach, then Trustees and the Church Council; all strongly supported. Because we believe that Karren Harter, who passed away a few years ago, would be excited about this project, we decided on the name "Karren's Clothing Cupboard".
It is such a blessing to be part of something so important to our community and to know that we belong to a church that has a heart for so many. God Bless you all as you bless others.
Karren's Clothing Cupboard is open Tuesday mornings from 10 am to 1 pm and Thursday afternoons from 1 pm to 4 pm; however, if Horseheads School District is closed for weather conditions Karren's Clothing Cupboard will also be closed.
Karren's Clothing Cupboard is open on Tuesdays from 10 am to 1 pm and Thursdays from 1 to 4 pm.
Please note: If Horseheads Central School District is closed due to weather, Karren's Clothing Cupboard is closed also.