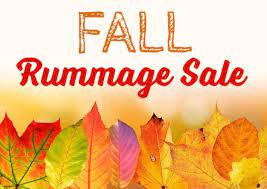 to benefit missions   
  Horseheads 1st. United Methodist Church, 1034 W. Broad Street. Horseheads, NY 
Wednesday, October 4, 2023, 5:00pm – 8:00pm, Free dinner available
Thursday, October 5, 2023, 9:00am – 4:00pm, ½ price for each item purchased.
Friday, October 6, 2023, BAG SALE, 9:00am – Noon, $2.00 pr. Bag
BRING OWN BAGS   NO PRE SALES 
RUMMAGE SALE GUIDELINES:
We will have our Fall rummage sale with the following strict guidelines for people who would like to donate items:
No items to be brought to the church until Friday, September 29, 2023, after 10:00am.
DO NOT PUT ANYTHING IN THE CHURCH GARAGE OR LEAVE OUTSIDE THE CHURCH DOORS.
All items need to be clean and usable. This includes clothing, children's items, kitchen items, etc.
We will not accept TV's, computer equipment, mattresses, bed pillows.
We cannot pick up large furniture – you need to take the items to the church.
                                RUMMAGE SALE DROP OFF DAYS AND TIMES
You can bring items on… Friday, September 29 after 10:00am
Saturday, September 30, and Monday, October 2, from 9:00am – 4:00pm
Tuesday, October 3, 9:00am – NOON (no items accepted after noon)
UNITED WOMEN IN FAITH